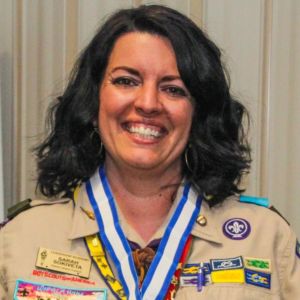 Sarah has been Scouting for years with her husband, son, and daughter! She has served as Baden Powell University Chair, Pack Webelos Leader, NYLT Course Director, and more over the years. Sarah earned the Silver Beaver award in 2019. She currently serves as Scoutmaster for Troop 3968.
CIT & JC Assistant Director
Join our team!
Are you looking for the summer adventure of a lifetime? Apply today to become a member of the R-C Scout Ranch CIT family!  
As a member of our CIT family, you will live at R-C Scout Ranch for the entire season, providing meaningful and exciting experiences to hundreds of Cub Scouts and their family members every summer.  If you're looking for a camp experience that is both challenging and the most fun you've ever had, R-C Scout Ranch is the place for you.  
Outside of programs like archery, BB Guns, and horseback riding, camp life is something truly special. There is no better way to spend your summer than at camp surrounded by your new family. 
We have a few positions available for our 2021 summer camp season! If you have any questions or would like to find out more.
Email RCScoutCamp@gmail.com. 
All staff are expected to be able to work the entire camp season as well as attend both training weekends. New this year is Staff will need to work Fall Camp Session and Spring Day Camp Sessions along with volunteering for one Cub Committee event.  Exceptions may be made for those attending another summer camp with their Troops handled on an individual basis. Preference will be given to those who can work the entire summer.
Required CIT training
– March 27-28 (Phoenix area)
– April 23-24 (at R-C Scout Ranch)
2021 Summer season:
– Staff should arrive on June 1
– Staff close camp July  2 
2021 Fall Session (OCTOBER,  R-Boo-C) 
2022 Spring Day Camp (MARCH)
1 Cub Committee Volunteer Day
Program Areas Available at R-C
CIT Program - Common Questions
What are you waiting for?
We look forward to receiving your application, and hope you will join our team!